Hey Buddy Golden Ale
5.2% ABV 12.7 IBU
Pale 2-Row, Vienna and a little White Wheat Malts. Light bodied with just enough hops to finish crisp.
Pour Favor Mexican Lager
4.9% ABV, 11 IBU
Brewers malt, corn and rice give way to a very light body yet slightly sweet malts. Hops are a subtle citrus aroma and flavor. Although light and crushable this beer can help put down some tacos.
Amor Fati Ruby Porter
5.3% ABV 26 IBU
Chocolate malt and double roasted sweet crystal malts. Late addition Golding hops. Love of Fate is complex and embracing.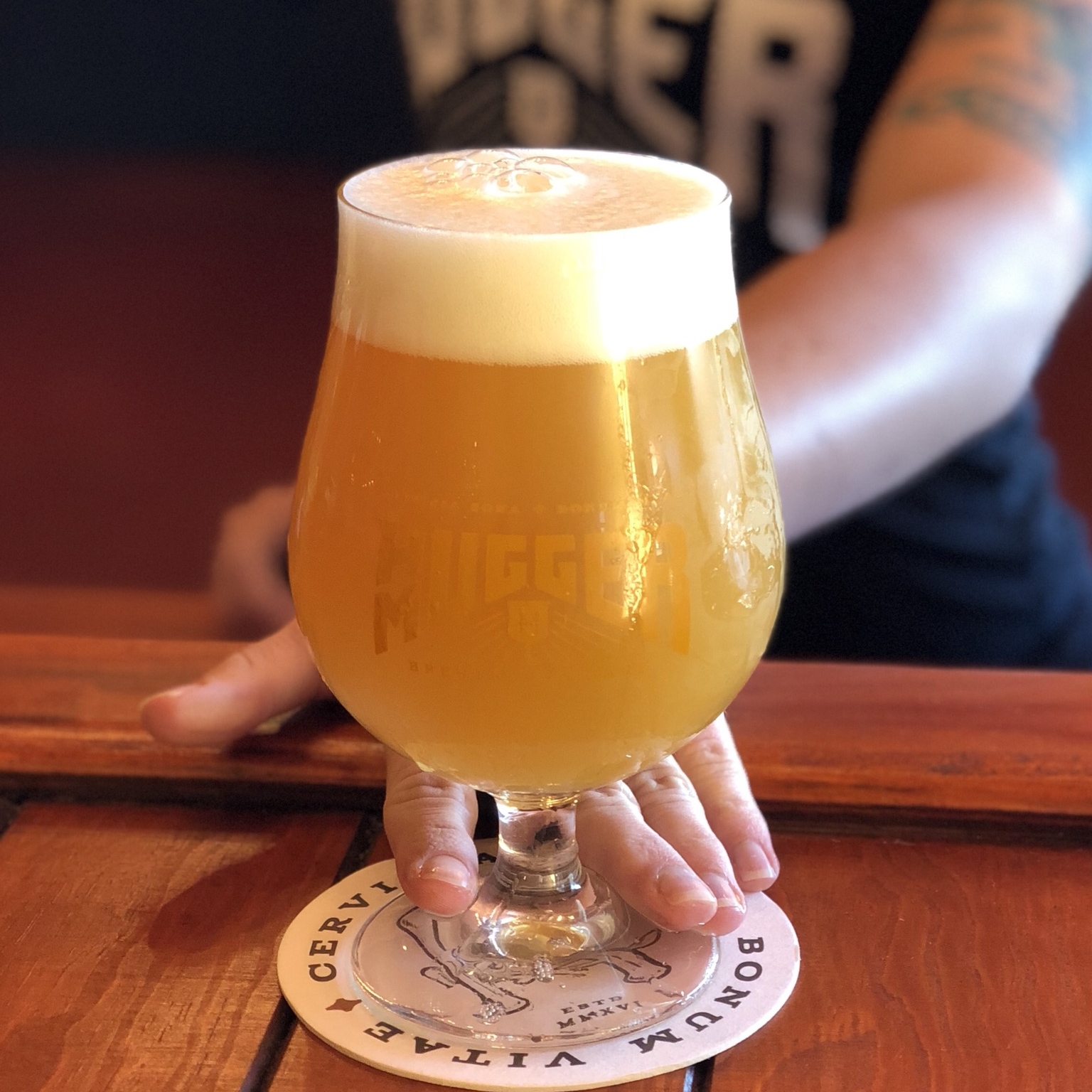 Juicy Brand Recognition Nor'Eastern IPA
7.5% ABV 11 IBU
This looks more like a breakfast drink than a traditional IPA. Brewers malt, honey malt and oats make the grain bill. Massive dry hopping during fermentation bring the haze and juice like qualities while keeping the bitterness low and soft.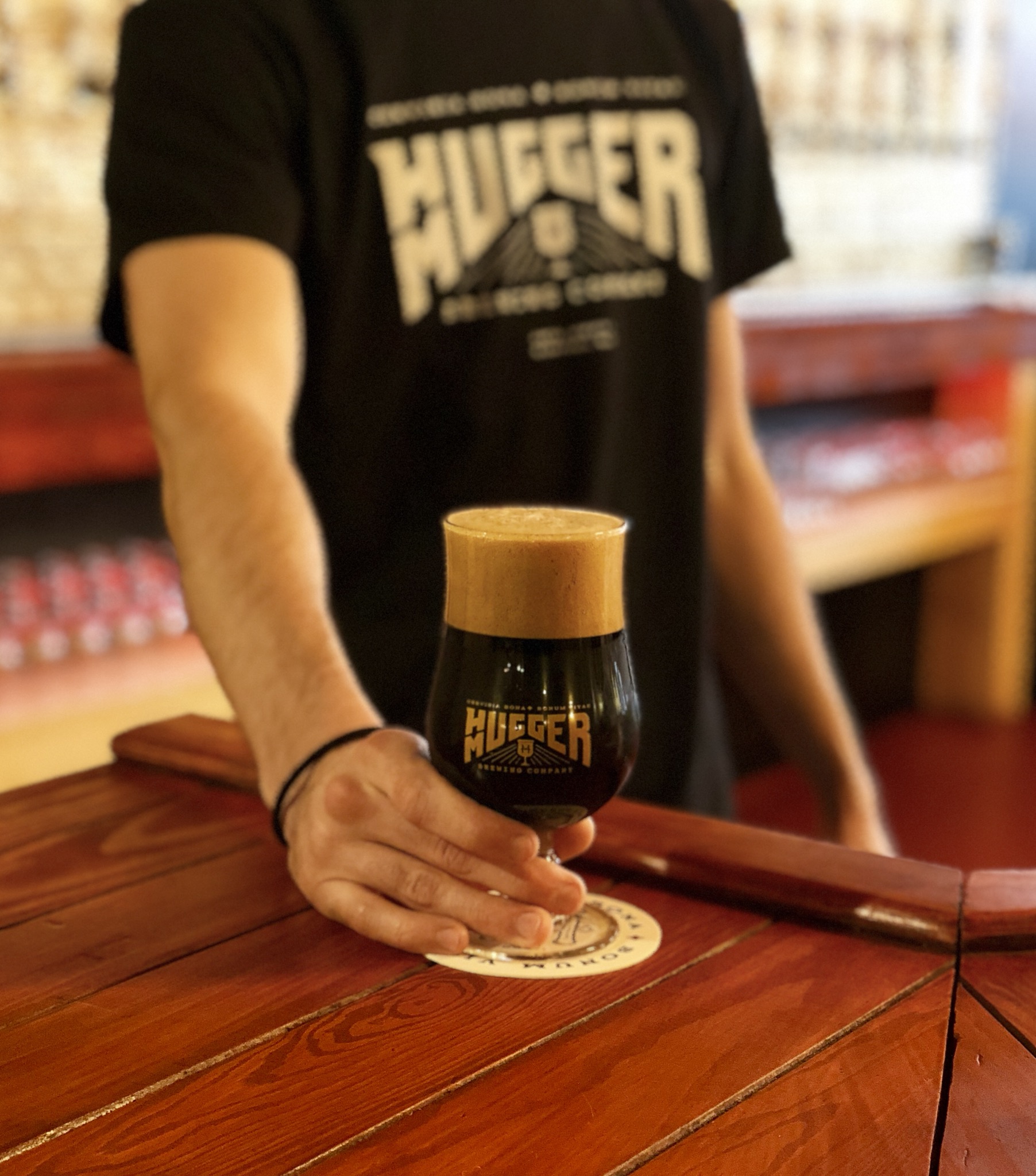 Chocolate Factory Meltdown
Milk Chocolate Imperial Stout
8.3% ABV 39 IBU
Dark sweet malts, de-husked Roasted Barley and flaked oats to name a few. Lactose milk sugar is added to the boil. Rum steeped Organic Cacao nibs added during fermentation and at conditioning. Rich and soft with a long finish.
Public Serpent
5.5% ABV 32 IBU
Simcoe and El Dorado are the flavor and aroma hops here. The malt bill is dominated by Golden Promise base malt - one of the most expensive and quality English malts there is. This gives the beer a nice balance between hops and malt profile. It's medium bodied and very golden. Flavors of candied malt, pineapple hops and soft finish for a hoppier APA.
Hastur "The King in Yellow" Belgian Tripel
9% ABV 20 IBU
Named after the half brother of the fabled Cthulu, Hastur influences the creative mind from afar. This 9% peppery and spiced Belgian Tripel will deceive in strength. Pale yellow in color and dry on the palate this quaff demon will sneak up on you.
Loop-U-Lunatic Imperial IPA
7.8% ABV 81 IBU
Pale and crystal malts give a west coast throwback IPA. Dank hops balances the sweet medium body and dries out the palette. Always brewed under the last full moon and dry hopped Waning Gibbous.
Bumble Stroke Dandelion Grisette Ale
4.6% ABV 25 IBU
Dandelion flowers impart a complimentary bitterness to the select hops and together share a rustic floral aroma. All flowers and spice with mild fruit notes from Belgian yeast. Dry, light bodied with the crisp cadence of herbal tea.
Ghost Light American Lager
5% ABV 24 IBU

This Vienna style lager is balanced with mouth-pleasing biscuit character and estery goodness. Brewed in collaboration with the Temple Theater Company's brew crew the name celebrates a theater tradition of leaving a light on the stage over night.
Drop it Like it's Scot
5.5% ABV 23 IBU
Brewed in the Lee County Highlands this somewhat traditional Scottish Ale has immense drinkability. She's a malt forward beer with a hint of Beechwood smoked malt in the finish. Golding hops balances with light bitterness.
Le Petite Passion Hefeweizen
5.1% ABV 11 IBU
White wheat and brewers malt gives way to a very light body yet round mouth feel. Hops are minimal and only for balance. The star here is the REAL passion fruit used during fermentation. Very bright acid with passion fruit and mangos. This is a very dry beer that should make you yearn for summer already.
Jaded Epidemic of Pils
5.1% ABV 37 IBU
Is at the heart a traditional Czech pils hopped with New Zealand Jade; a cousin to what normally is the spicy Saaz hop. The finest German pilsner barley are used with light additions of kilned malt leave the beer clean crisp and bright. Moderate dry hopping of Jade gently enhances the spicy aroma.
Scarlet Marvel: Endgame
5.1% ABV 12 IBU
We're living in Endgame times & that calls for a raspberry sourweisse brewed with fresh ginger. Fresh raspberry sweet tart flavors, pronounced yet balance fresh ginger flavor and aroma. Hops are mild. Body is light and super clean tasting.
Trick in a Box Crackerjack Amber Ale
5.9% ABV 22 IBU
A caramel corn delight is what you can expect from the newest beer style celebrating tricks in boxes everywhere
Brutal Zed's Sour Saison
7.3% ABV 20 IBU
Zed always evolves. This is a rule breaking sour with higher ABV, very complex malts and then dry hopped with mosaic and sterling hops.
Isn't She a Peach Tropical Sour
4.9% ABV .00001 IBU
He brews beer—
This brewer without fear—
And into his throat a treat—
Fell a fine sour
Scented like flowers
Twas crafted with local peach
-- with apologies to Edgar Allen Poe's "El Dorado" (this lovely was brewed with El Dorado hops!)
Next up … Wicked Pitch of the Yeast … White IPA … and friends.
Rotating
Local Cider
James Creek Cider House
Cameron, Moore County, NC
Refreshing craft cider from Southern heirloom and modern apple varieties grown in James Creek orchards and other family farms in central North Carolina.
Botanist & Barrel
Cedar Grove, NC
A variety of barrel aged and stainless steel dry wines, ciders and sours are produced using only the finest fruits, blueberries, blackberries, raspberries, peaches and apples.